Thailand is one of the best honeymoon destinations globally. Millions of tourists choose Thailand as their honeymoon destination due to many reasons such as its beautiful beaches, amazing hospitality, and the variety of activities and places that can be explored for every interest. In this article we will be highlighting the best things to do in Thailand for couples that we recommend as a local Thailand travel agency so you can add them to your plan when visiting the land of smiles with your partner.
Best things to do in Thailand for couples
Unique Dining Experiences for Couples in Thailand
Thailand is famous with its variety of amazing and unique dining experiences. If you are traveling to Thailand for Honeymoon Vacation or any other romantic occasion, you will find many amazing dining experiences to try. The most popular and recommended dining experiences to try in Thailand are: Sky dining, Dinner cruises, and Private dinners by the beach.
Sky Dining in Bangkok
One of the best dining experiences in Bangkok for couples is to have dinner with spectacular view of the city from one of its rooftop restaurants. Bangkok is famous with its skyscrapers that are home to amazing rooftop restaurants and bars. The most recommended rooftop restaurants and bars that you should visit with your partner when in Bangkok are:
By dining in one of these 2 restaurants you will enjoy an amazing view of Bangkok at night from top, and a delicious meal in one of the top recommended restaurants in Bangkok. If you plan to visit any of the above 2 mentioned restaurants, you will have to pre reserve your spot and pay for the dining package to guarantee seats availability.
Private Dinner by the beach
Having a private dinner by the beach with your partner is a great romantic experience for honeymooners and couples traveling. Private dinner by the beach can be arranged at most of the beachfront resorts, however, private setups are arranged depending on the resort where you will be staying.
At Royal Vacation, we ensure including this amazing experience in our Thailand honeymoon Packages to make the trip unforgettable and full with exceptional experiences. The dinner is usually a set menu with 3 to 5 courses, however it can be customized based on each customer's preferences (ie: gluten free, Vegetarian, Vegan, etc..)
Below are the some of the best hotels that can arrange Private romantic dinner by the beach around Thailand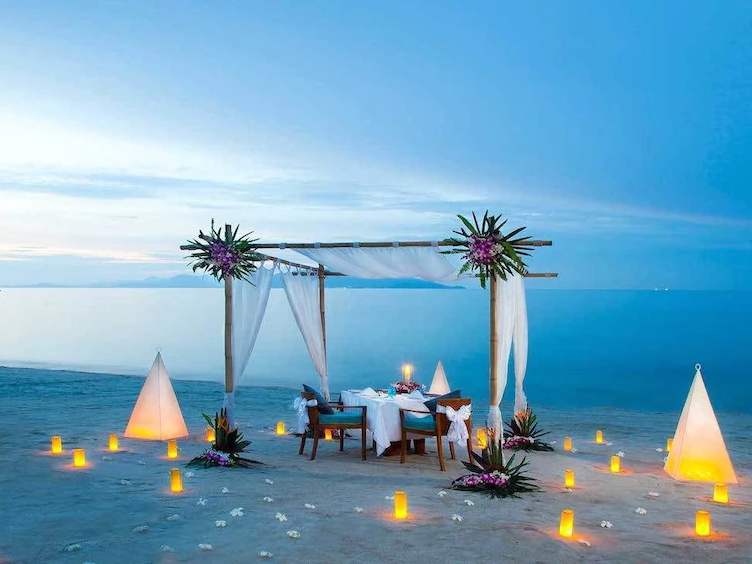 Dinner cruise at the Chaophraya river or in the Andaman Sea
Chaophraya Dinner cruises
One of the greatest experiences and things to do for couples in Thailand is having a romantic dinner in one of the best dinner cruises in Bangkok. while cruising along the chaophraya river, you will have the chance to see some of Bangkok's amazing Temples and attractions from the river including: Wat Arun, the Grand Palace, and the Asiatique riverfront.
There are 2 main different types for dinner cruises in Bangkok. The first one is offering set Menu Option with 3 to 5 courses meal. The second one is offering an open buffet meal. If you are looking for a luxurious cruise experience in Bangkok, you should consider booking
Dinner cruise in the Andaman Sea
If your trip with your partner will be including Phuket or Krabi, then a romantic dinner cruise in the Andaman Sea is a recommended experience to include in your itinerary. There are several boats in both destinations that are operating romantic dinner cruises at sunset time. This amazing experience will allow you to enjoy a delicious meal while cruising along the Andaman Sea.
Most of the cruises include a live band performance to make the environment more romantic and the experience more unique. Dinner serve on board is mainly Thai, however, ,in case you have any food preferences, that can be arranged during your tour booking process with us.
Romantic Experiences to make your trip unforgettable
Private Boat trip to one of the beautiful islands
Thailand is home to many beautiful islands. A great thing to do on a honeymoon vacation or on a trip with your partner is visiting a nearby island from the beach destination where you will be staying with a Private boat.
If you will be staying in Phuket, the most recommended islands to visit with a private boat are Phi Phi islands, Coral island Phuket, Racha island, Maiton island, James Bond island and Phangnga bay.
In case you will be staying in Krabi, you should consider taking a Private boat to Hong Island, Phi Phi islands, or the nearby 4 islands (Koh Poda, Koh Kai, Koh Tub and Koh Mor).
If you will be staying in Koh Samui, then you should consider visiting Koh Tao, Koh Nangyuan, Angthong National Marine park and Koh Phangan island.
Private Hot Air Balloon in Chiang Mai
Chartering a private hot air balloon ride in Chiang Mai, Thailand, is an unforgettable experience that makes for a perfect romantic escapade for couples exploring this enchanting destination.
As you gently ascend into the clear morning sky, the breathtaking vistas of Chiang Mai's lush countryside, majestic mountains, and serene landscapes create a picture-perfect backdrop for an intimate journey. The sense of tranquility and seclusion in the expansive balloon basket provides couples with an opportunity to share in the magic of the moment, watching the sun rise over this picturesque region.
With the only sound being the occasional whoosh of the balloon's burners, you can embrace the serenity of the experience while enjoying the company of your loved one. Moreover, as you glide gracefully above the treetops and local villages, you can relish the awe-inspiring beauty of northern Thailand and make cherished memories that will last a lifetime, making this a truly exceptional experience for couples traveling to Thailand.
Stay in a Private pool Villa
Staying in a private pool villa in Thailand is an exquisite and idyllic experience that elevates any romantic getaway for couples visiting this tropical paradise. Nestled within lush and secluded settings, these villas offer the perfect blend of intimacy and luxury. With your own personal pool just steps away from your accommodation, couples can relish in the utmost privacy, whether it's a refreshing morning swim or a moonlit dip under the stars.
The serene ambiance and lush surroundings create an intimate atmosphere, where you can unwind together, undisturbed by the outside world. From sipping cocktails by the pool to enjoying breakfast in the open-air, these villas provide an enchanting backdrop for shared moments. The feeling of seclusion and the attentive service from the villa staff ensures that couples can focus on each other and create cherished memories, making it an exceptional and truly romantic experience for those traveling to Thailand.